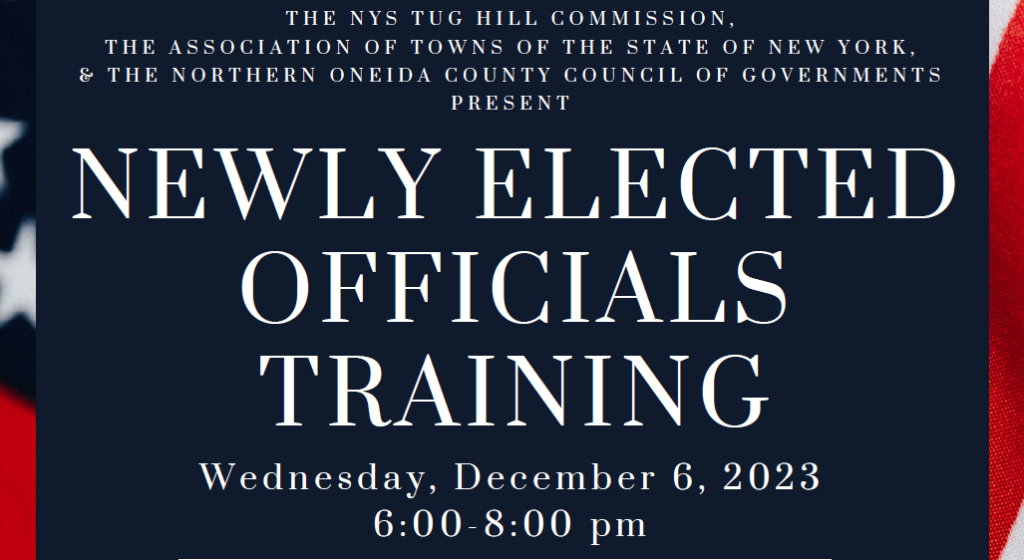 Newly Elected Officials Training
Wednesday, December 6, 2023, 6 p.m. to 8 p.m.
Online Only via Zoom, No Cost
Presentations will be made by Sarah Brancatella and Lori Mithen-Demasi from the Association of Towns of the State of New York
Register at https://tinyurl.com/officialaot
Topics to be covered include conflicts of interest, codes of ethics and boards of ethics, financial disclosure requirements, typical town offices and their roles, oaths of office, and preparing for your first meeting. There will be plenty of time for questions and answers.
This is a good refresher for current officials as well!
Sponsored by the NYS Tug Hill Commission, Association of Towns of the State of New York, and the Northern Oneida County Council of Governments, in cooperation with the Cooperative Tug Hill Council, North Shore Council of Governments, River Area Council of Governments, and Salmon Rivers Council of Governments.