The Tug Hill region lies between Lake Ontario and the Adirondacks. Larger than Delaware or Rhode Island, its 2,100 square miles comprise one of the most rural and remote sections of New York State and the Northeast. A scattering of public lands covers a tenth of the region, with most of that land used extensively for timber production, hunting, and recreation. The rest is privately owned forest, farms, and homes, all of it working land that supports the region's way of life.  Tug Hill's total population is just over 100,000, with two-thirds of those people concentrated in villages around its edge. Its densely forested core of about 275 square miles is among New York's most remote areas, with a population of just a few thousand and few public roads.
Tug Hill Snow
Tug Hill is noted for its heavy snowfalls, usually described as the heaviest east of the Rockies, though Michigan's Upper Peninsula and the White and Green Mountains of New Hampshire and Vermont rival Tug Hill.  The combination of winter winds blowing over some 150 miles of Lake Ontario waters and the rise from 250 feet in elevation at the western edge, to the 2,100 feet elevations on the eastern edge creates these heavy snows. But lake effect snows can be very local, so snowfall amounts around the Tug Hill region vary considerably. There is no "average" snowfall for the entire region, except to say it is heavy everywhere in the 2,100 square mile region, and almost always in excess of 200 inches/year.  The map below, based on NOAA snowfall data from 2021-22, demonstrates this well.  Tug Hill is the lavender to dark purple area due east of Lake Ontario.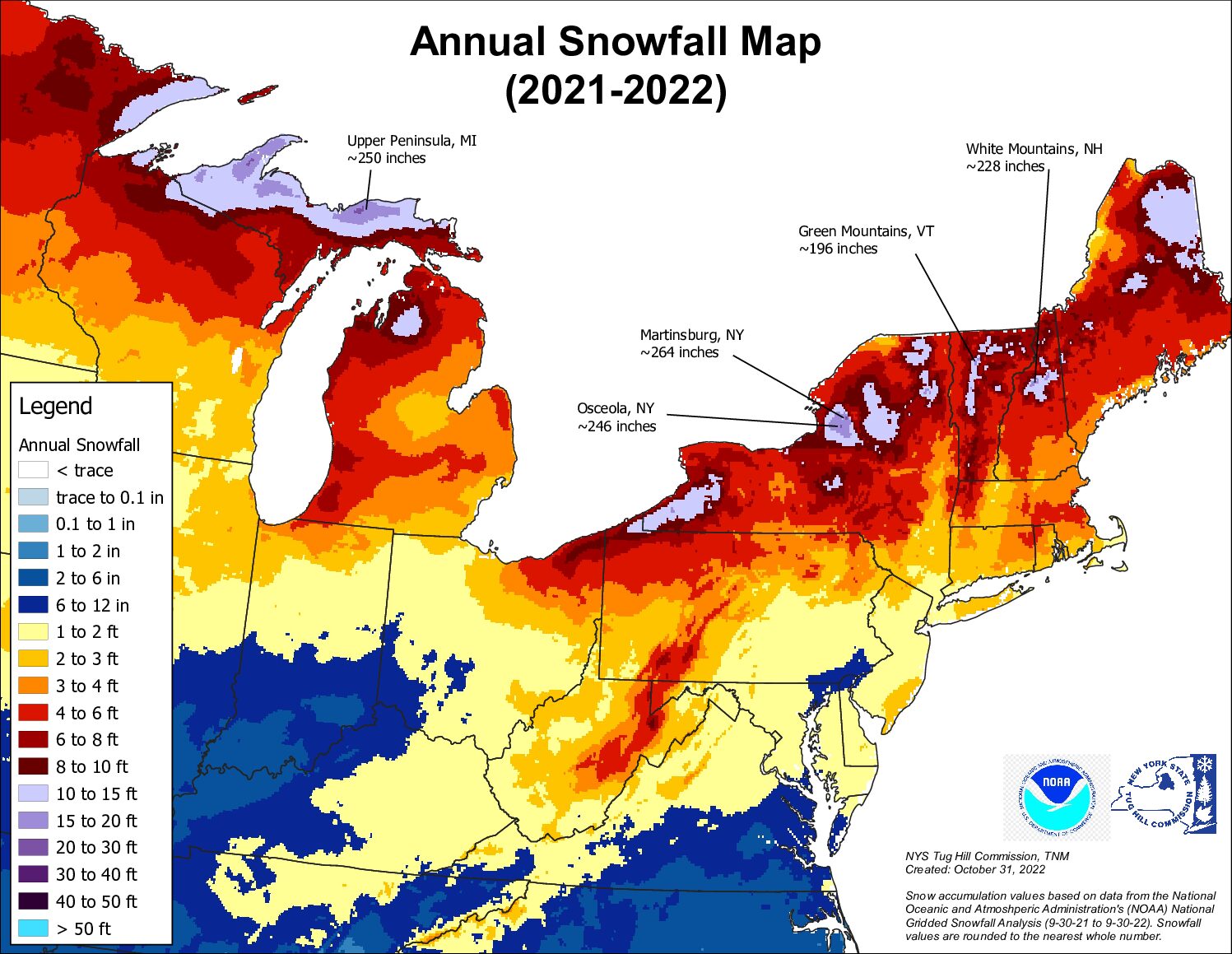 (Full-size pdf of above map here.)
Northern Chateau has numerous webcams around Tug Hill, useful when planning travel during the winter months.
The NY Mesonet has weather stations around the state, including nine on Tug Hill (Camden, Central Square, Copenhagen, Glenfield, Harrisburg, Osceola, Redfield, West Monroe, Woodgate).
Some recent articles about Tug Hill's famous snow are linked below:
Tug Hill:  Surviving winter in the snowiest place in the East
Where Did "Tug Hill" Come From?
A best guess on the origin of the name for the Tug Hill region is that "Tug Hill" was a frequently used name in the 18th and 19th centuries for many areas reached by horses or oxen "tugging" a wagon up a long road to get to a high area. H.E. Krueger in his article "The Lesser Wilderness – Tug Hill" in a 1966-1967 article in The Conservationist was named Tug Hill by two early settlers, Isaac Perry and a Mr. Buell when traveling up the hill west of Turin. Krueger claims that prior to this christening, the Iroquois referred to Tug Hill as the Lesser Wilderness, and the Adirondacks "the Iroquois term, meaning "barkeater," a pejorative applied to the Algonquins, reputedly for their eating of the cambium of willow trees in time of scarce food, as the Greater Wilderness.
Some people do say "Tug Hill Plateau," suggesting that once you "tug" to the top of the hill you are on a relatively flat place rather than a hilltop. "Plateau" is also close to geologically correct since Tug Hill is flat on top. Technically, geologists would probably call Tug Hill a "cuesta" since it is actually comprised of sedimentary rocks that tip up on one side.
Environment & Economy
Forestry, farming and recreation are important segments of the Tug Hill economy and are viable because of the region's environment.  Historically the region's forests supported wood products and paper manufacturing. Although elements of that economy have declined in recent years, forestry remains an important element of both the economy and way of life on Tug Hill.  Water is one of Tug Hill's most abundant and important resources, and is used for recreation (kayaking, canoeing and world-class fishing), generating electric power, and municipal and industrial water supplies.  Traditional pastimes such as hunting, fishing, trapping, and hiking have been enjoyed for generations by Tug Hillers.  The abundant snow on Tug Hill has created a large network of snowmobiling trails, and more recently ATV trail riding has become more popular and widespread.