This exciting multi-media exhibit is part of a collaborative project with artist, Loretta Lepkowski, Tug Hill Tomorrow Land Trust, the Tug Hill Commission and Traditional Arts of Upstate New York. Since 2016, the exhibit has been touring the Tug Hill region and beyond, thanks to the efforts of Loretta and staff at the Tug Hill Commission and the Tug Hill Tomorrow Land Trust:
October 23, 2015 – THTLT annual dinner at Tug Hill Vineyards, preview of some of paintings

November 6, 2015 – Martinsburg Library preview

November 11, 2015 – Constable Hall annual dinner at Alpine Restaurant, preview of some paintings. Subjects in attendance: Arsa Weiman and family; Cataldos; Dr. Russell and sons

December 2, 2015 – Rome Women's Group – preview of several portraits

February/March 2016 – Dodge Pratt Northam Art & Community Center Boonville, NY, evening reception. Several subjects in attendance: Leona Chereshnoski and son and daughter; Cataldos; Bob Sauer; Arsa Weiman and family; George Capron and wife during day.

August 11, 2016 – Greig Town Hall reception; Cataldos present

October 20, 2016 – THTLT's 25th Anniversary Celebration, Kallet Theater, Pulaski – DEBUT

October – November 2016 – Halfshire Historical Society, Richland, NY; Doug Barclay viewed his portrait

November 10, 2016 – Tug Hill Commission Annual Dinner, Tailwater Lodge, Altmar

February – mid May 2017 with artifacts at TAUNY, Canton, NY; largest display of exhibit

April 8, 2017 – Loretta and sister Regina Fredericks demonstrate Polish food – pierogi, babka, and lamb cake at TAUNY, several families involved

May 28, 2017 – Fiddlers' Museum, Osceola, NY; Leona Chereshnoski & Dutch Buchal and family there

Mid June 2017 – State Office Building in Watertown

August 1 – 26, 2017 – Old Forge Library, Old Forge, NY; reception

September 11, 2017 – Point Rock Methodist Church; Jim Burke and band perform within Sunday Service and exhibit of paintings along altar area and downstairs, pot luck lunch afterwards

October 3 – 13, 2017 – Lewis County Historical Society, Lowville, NY; reception

October 22, 2017 – TAUNY Evergreen Award given to Loretta Lepkowski, with salute to North Country Heritage; reference to Family Farms and Venerable Folks of Tug Hill exhibits

New York State Museum

June 8, 2018 – Thousand Islands Land Trust Zenda Farms, Clayton, NY

August 10, 2018 – Thompson Park Zoo, Watertown, NY; Lin Gibbs of THTLT assistance with outdoor display of portraits with bios and theme panels

March 28, 2019 – Local Government Conference at Jefferson Community College, Watertown, NY

November 11, 2019 – Current Topics meeting, Lowville, NY

All of 2020 and most of 2021 – in storage at THTLT during COVID

October 14, 2021 – Tug Hill Commission Annual Dinner, Tailwater Lodge, Altmar

November 19 – December 14, 2021 – Prospect Library, reception

December 14, 2021 – January 14, 2022 – Remsen Library 

January 14 – March 4, 2022 – Rome Jervis Library

March- April 2022 – Western Town Library

July 2022 – Constable Hall

August 10 – September 12, 2022 – Turin Library, reception

September 2022 – Oneida County History Museum

March 6 – 17, 2023 – Lowville Free Library, reception

June 21- July 28, 2023 – THTLT new office, Watertown
The people selected as Venerable Tug Hill folk exemplify the traditions and spirit of the Tug Hill region. Building on the original portrait series painted by Lepkowski, the multi-media project documents these individuals through portraits, pictures, audio and video, culminating in a comprehensive, multi-media experience.  We are extremely grateful to all of the Venerable Folks for sharing their life stories and Tug Hill adventures.
They represent the resourceful and hardy people of Tug Hill: the farmers, loggers, and mill workers contributing to their communities in so many ways.  Serving on local town boards, in schools, libraries, churches, and other organizations. Carrying on the traditions of hunting camps, Old Tyme fiddling, and food and dance festivals that celebrate their heritage, these venerable folk are passing on the Tug Hill way of life to the next generation.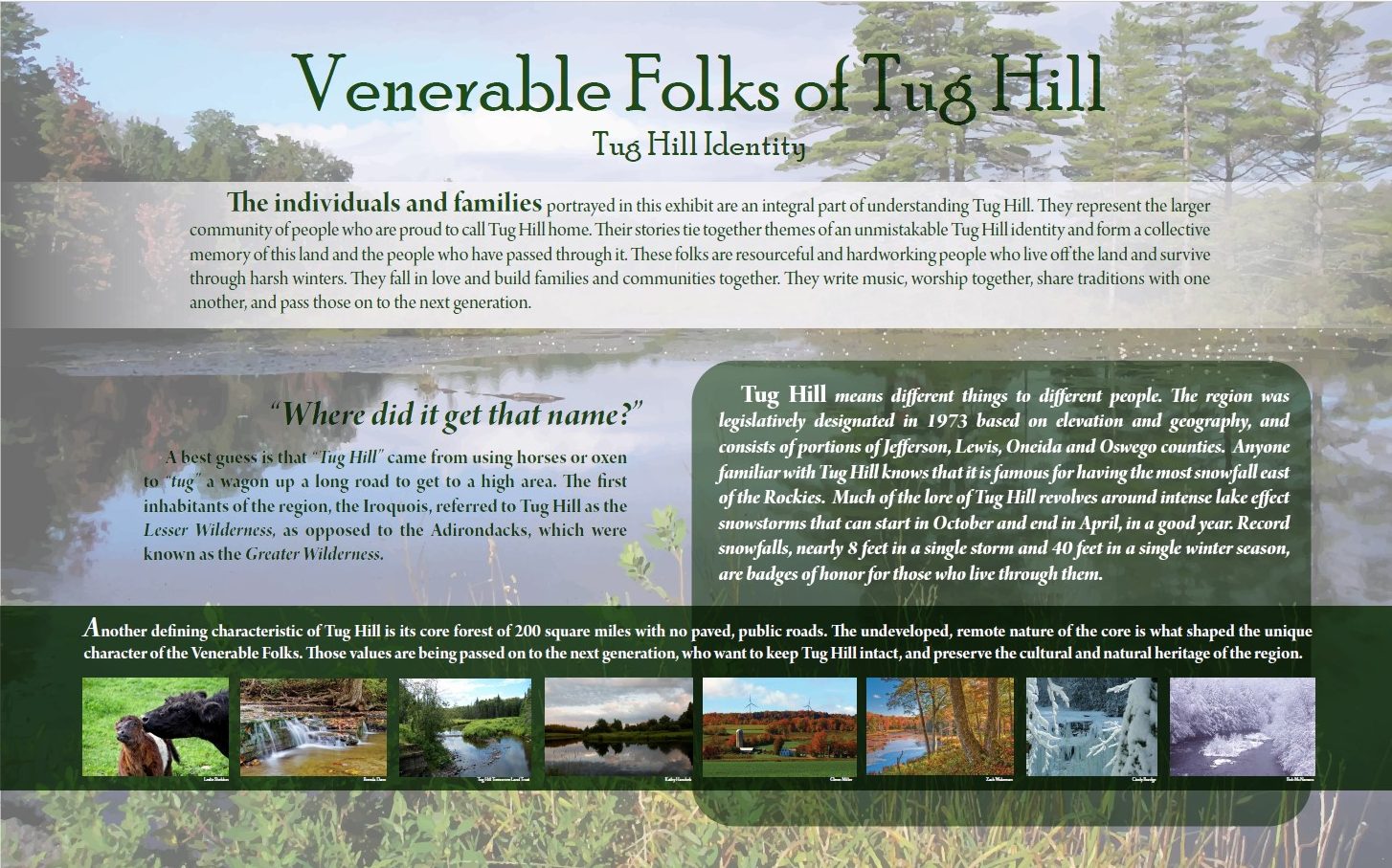 All of the panels below are vinyl popup panels with stand-alone frames, and measure 38″ wide x 69.5″ tall.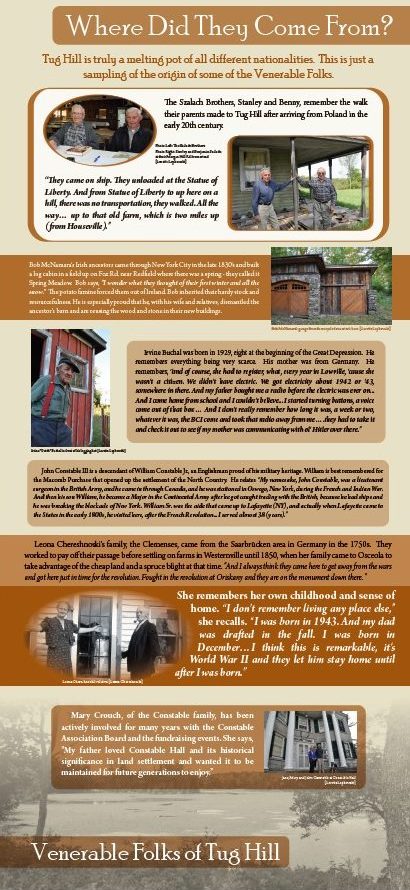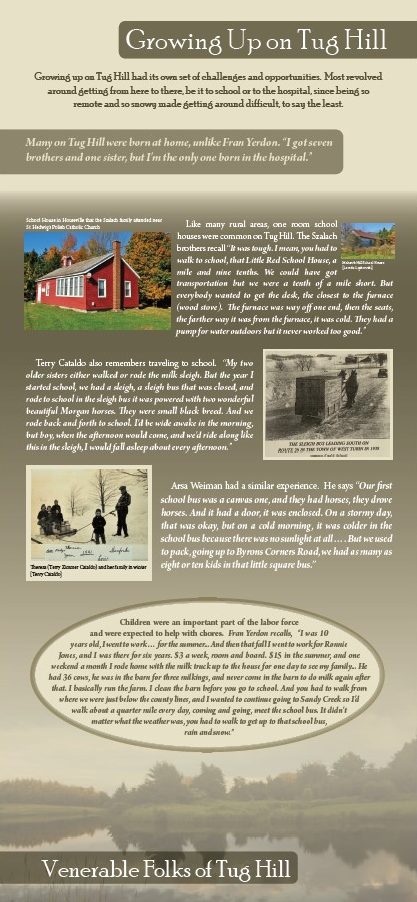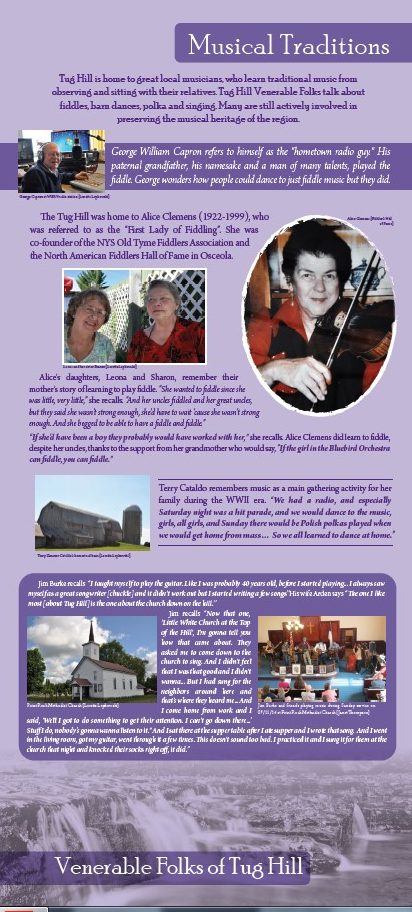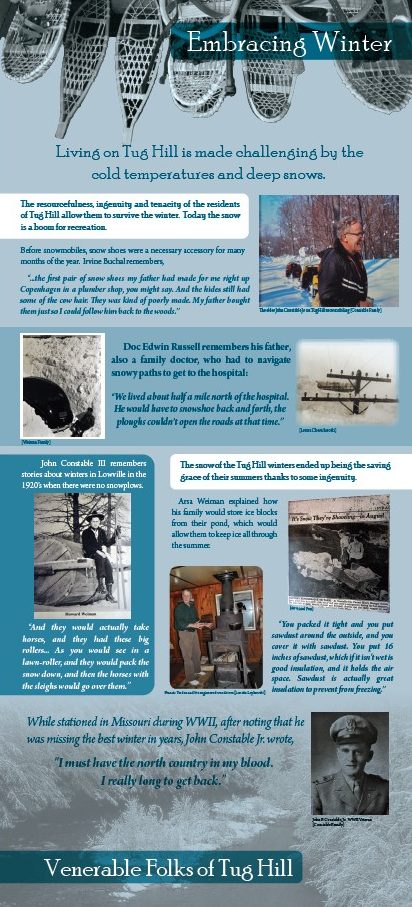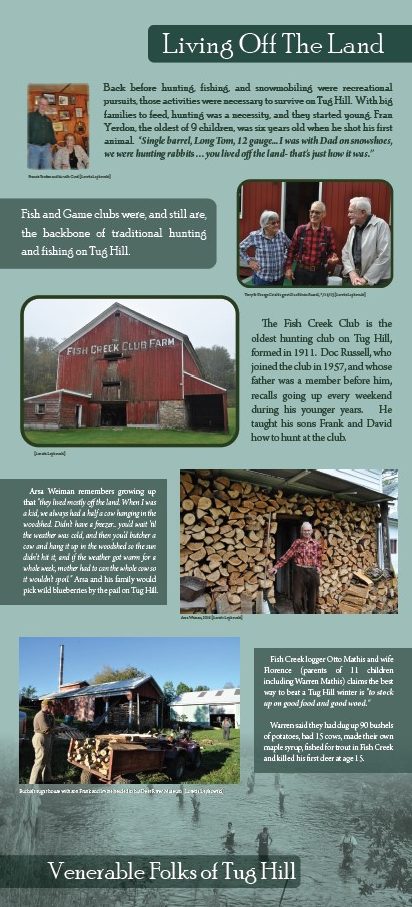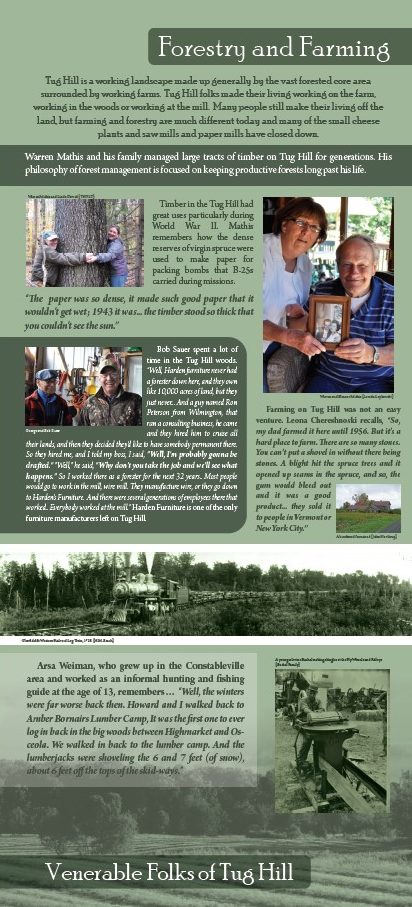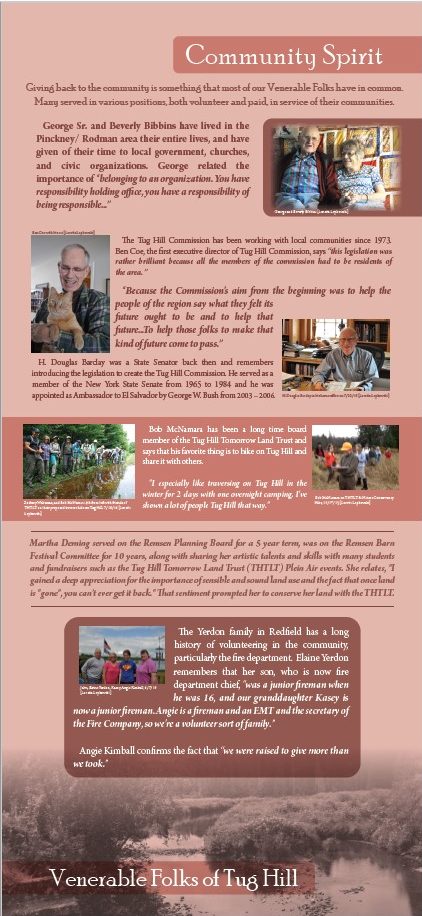 Portraits:  Doug Barclay, Francis Yerdon, Angie Kimball & Elaine Yerdon, Jim Burke, George Capron, Irvine Buchal, Leona Chereshnoski, Warren Mathis & Bob McNamara, Ben Coe, Martha Deming, Ed "Doc" Russell, Szalach Brothers, Terry & George Cataldo, Weiman Brothers, Bob Sauer, John P. Constable Jr., George Bibbins, Sr.
Portrait sizes range from 15 3/4 " x 13 3/4 " to the larger 27″ x 21″.  Each comes with a biopanel 8.5″ x 11″.
There is also a video element to the exhibit.  Other historical items may be secured to round out the exhibit depending on the space.