Most Tug Hill towns and villages belong to one of five councils of governments (COGs). Each is served by one or more "circuit riders" who, working out of their home offices, help in sharing good ideas between communities and help individual towns and villages take advantage of a more regional perspective in trying to enhance their communities. Circuit riders also help communities in identifying and solving problems and, when more specialized assistance is needed, call upon commission staff for help in land use planning, finding grants and loans for community improvement, and providing technical assistance and training opportunities for local officials.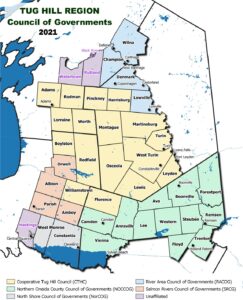 Some additional information on the region's COGs can be found here: Councils of Governments FAQ January 2021.
The five councils of governments in the Tug Hill region are:
COOPERATIVE TUG HILL COUNCIL
Circuit Rider – Angie Kimball (Redfield, 315-599-8825)
Assistants
Beth Steria (Lowville, 315-681-8144)
Karleigh Stuckey (Lacona, 315-777-3601)
NORTH SHORE COUNCIL OF GOVERNMENTS
SALMON RIVERS COUNCIL OF GOVERNMENTS
Circuit Rider – Paul Baxter (West Monroe, 315-668-8945)
NORTHERN ONEIDA COUNTY COUNCIL OF GOVERNMENTS
Circuit Rider – John Healt (West Leyden, 315-942-2818)
Lisa Bellinger (Boonville, 315-723-0948)
Joe Rowlands (Steuben, 315-269-2214)
RIVER AREA COUNCIL OF GOVERNMENTS
Circuit Rider – Mickey Dietrich (Lowville, 315-681-5023)
In addition to the financial benefit of sharing services through councils of government, COG membership also provides the increased clout of having one's voice heard. A group of municipalities sharing a regional concern will have more clout than an individual community advocating a position on its own.
The circuit rider program has been the core of the Tug Hill Commission for many years.  Below are two historical documents written by the commission's first executive director, Ben Coe, on the circuit rider program.
The Circuit Rider Concept: Meeting the Need of Rural Communities Governed by Part-Time Public Officials
Building Rural Local Officials' Capacity: "Circuit Rider" and Technical Assistance Programming
Contact the Tug Hill Commission to relay a message: (315) 785-2380/2570