Any students Grade 9 through 12 enrolled in one of the Tug Hill region school districts are eligible to apply. The contest's first place winner will have their submission featured on the brochure cover for the 2023 Local Government Conference on April 5th and 6th at the Turning Stone Conference Center in Verona.
The theme of the poster contest is "What does the Tug Hill Region mean to you?" Contest submissions will be accepted from January 1, 2023, to February 15, 2023, and winners will be announced no later than February 21, 2023. All submissions must be sent through a Google Form at the following link, which will not go live until January 1st: tinyurl.com/tughill50poster.
Please contact Taylor McKinney at taylor@tughill.org or (315) 785-2606 with any questions regarding this contest. Any form of two-dimensional media will be accepted; photography, however, will not be judged unless it is incorporated into mixed media. All submissions must be in portrait orientation, suitable for an 8.5" x 11" print. Submissions will be judged on originality, creativity, reflection and interpretation of the theme, and artistic merit.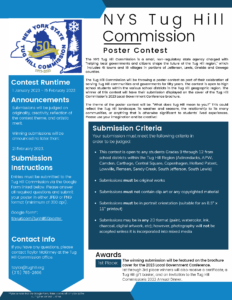 Poster Contest Announcement (downloadable pdf)