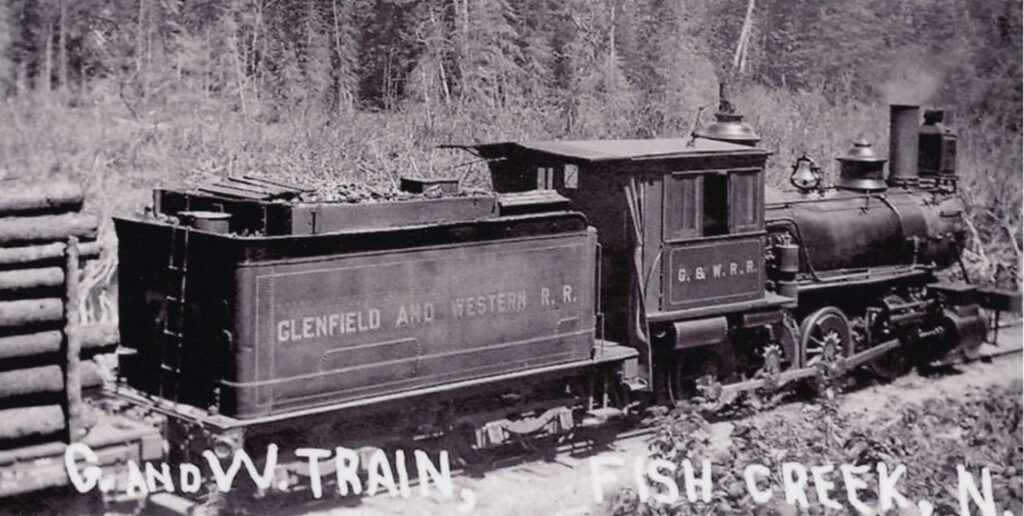 Missed the popular G&W Railroad presentation? You can watch it here.
The NYS Tug Hill Commission will host a presentation entitled "The Glenfield & Western Railroad: The Ol' Gee Whiz" on Saturday, October 28 at Noon at the West Leyden Elementary School, 1157 Fish Creek Rd, West Leyden, NY 13489. Interested people can join online via Zoom as well. Register for the event using the link: tinyurl.com/glenfieldwesternrr (for both in-person and online registration), or by calling the commission office at 315-785-2380 (in-person registration only).
While the Glenfield & Western Railroad hasn't been running for almost 100 years, the railbed and the communities the railroad supported are important and unique history to Tug Hill. The presentation will feature the extensive history of both the railroad and the communities of Michigan Mills and Page. The information was compiled using books, newspapers, pictures, postcards, and first-hand accounts from families with relatives that lived in Page. From popular G&W photographs to intimate family portraits and post cards from Page, the presentation will tell the story of one of the most unique railroads in New York State history and the only railroad ever to be completed to access the core of Tug Hill.
The presentation will be delivered by Charley Swerdoski, a local resident interested in the history of the Glenfield & Western Railroad, who has helped research the timeline of events, compile pictures, and reach out to families on the hill to collect personal stories. He has distant family connections to Page, with his Great Great Aunt being a schoolteacher at Page. He now owns a camp along the old railroad bed where the community of Page once stood and has regularly utilized the path carved by others over 100 years ago for hunting and fishing.