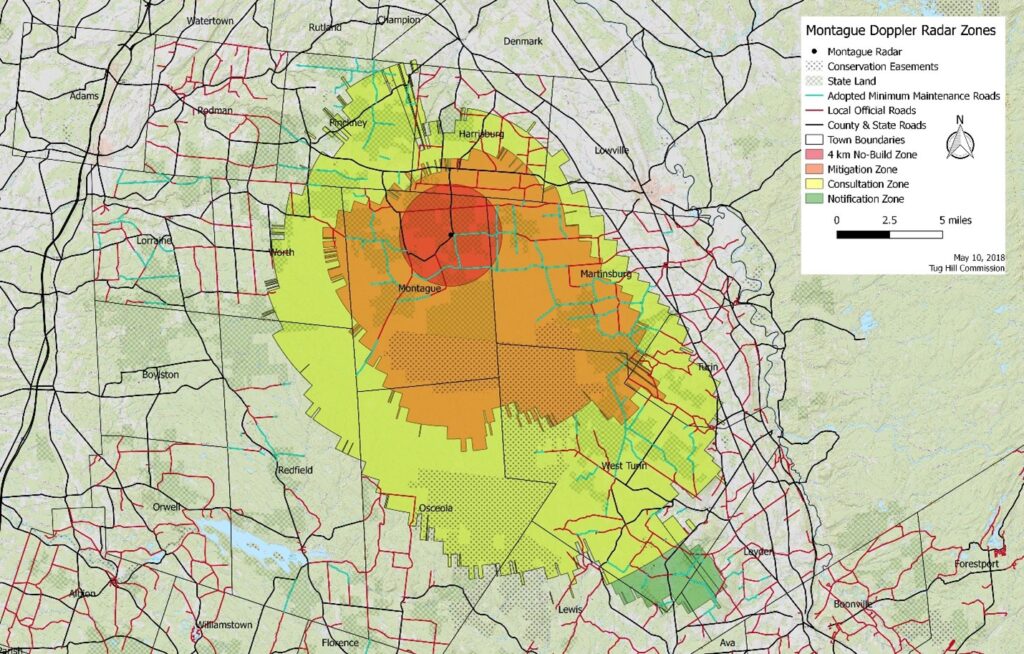 Originally written in 2018, commission staff has revised the Montague Doppler radar paper with updated information about wind farm locations and with review from the National Weather Service as well as the Wheeler Sack Army Airfield and the 18th Combat Weather Squadron on Fort Drum. Read the updated issue paper here.
The Montague Doppler radar is essential for weather forecasting, especially given the intense lake effect snowfall Tug Hill is known for. The Montague radar is one of 159 radars the National Weather Service (NWS), Department of Defense, and Federal Aviation Administration (FAA) operate throughout the country. The NWS shares resulting weather data with many entities, including the public, media, academia, and the private weather sector. Fort Drum uses the data to forecast weather conditions for aircraft using the Wheeler-Sack Army Airfield, located on Fort Drum, and to support their mission and resource protection. The FAA uses the data for their mission of safety of air navigation for both commercial and general aviation.
The United States Geological Survey (USGS) has a U.S. Wind Turbine Database, showing the location of individual turbines and their parent wind farms. The proximity of the wind tur-bines to the Montague radar can be observed using this resource; the Montague radar is located near the intersection of Parker, Sears Pond, and Rector Roads. The Maple Ridge, Copenhagen, and Roaring Brook wind farms are visible, with the Number Three wind farm still under construction and not yet visible on the map. The National Weather Service has developed siting guidelines to encourage wind farm developers to site new projects in areas that will minimize future wind turbine interference. Collaboration will be key to promote New York's transition to green energy, while preserving the essential functions of the Montague Doppler radar.