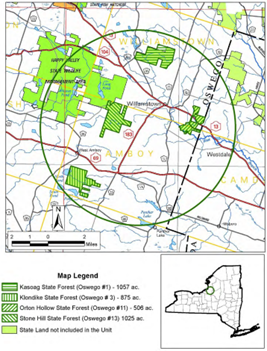 The NYS Department of Environmental Conservation (NYSDEC) has released a draft management plan for 3,464 acres of Kasoag, Klondike, Orton Hollow, and Stone Hill state forests located in Oswego County. You are encouraged to review the draft plan available from the NYSDEC website: Fish Creek Unit Management Plan. Comments will be accepted until July 10, 2022, by email with the subject line
"Fish Creek Unit" to R7.UMP@dec.ny.gov, or mail to: Erin Jennings, Forester, NYSDEC, 2133 County Route 22, Altmar, NY 13302.
The draft plan balances recreational opportunities while protecting wildlife and natural resources. The Fish Creek Unit Management Plan will set the framework for 10 years of management by addressing natural resources management and maintenance, maintaining ecosystems for healthy fish and wildlife, continuing timber sales, and providing opportunities for recreation, education, and research.
Lands, waters, and forests are managed by NYS to benefit fish and wildlife while
providing opportunities to the people of NY including hiking, fishing, camping, snowmobiling,
hunting, trapping, snowshoeing, cross country skiing, and UTV access for
those with limited mobility.
Included in the plan is the designation of 0.5 miles of an existing accessible trail for motorized access by permit to trails in Orton Hollow State Forest for individuals with mobility limitations, maintaining existing partnerships with snow-mobile clubs for maintenance and grooming of trails, and continuing forest management best practices.
The draft plan sets objectives, and identifies both near-term and long-term projects to accomplish the following management
goals:
• Goal 1: Provide Healthy and Biologically Diverse Forest Ecosystems
• Goal 2: Maintain Man-Made State Forest Assets
• Goal 3: Provide Recreational Opportunities for People of All Ages and Abilities
• Goal 4: Provide Economic Benefits to the People of the State