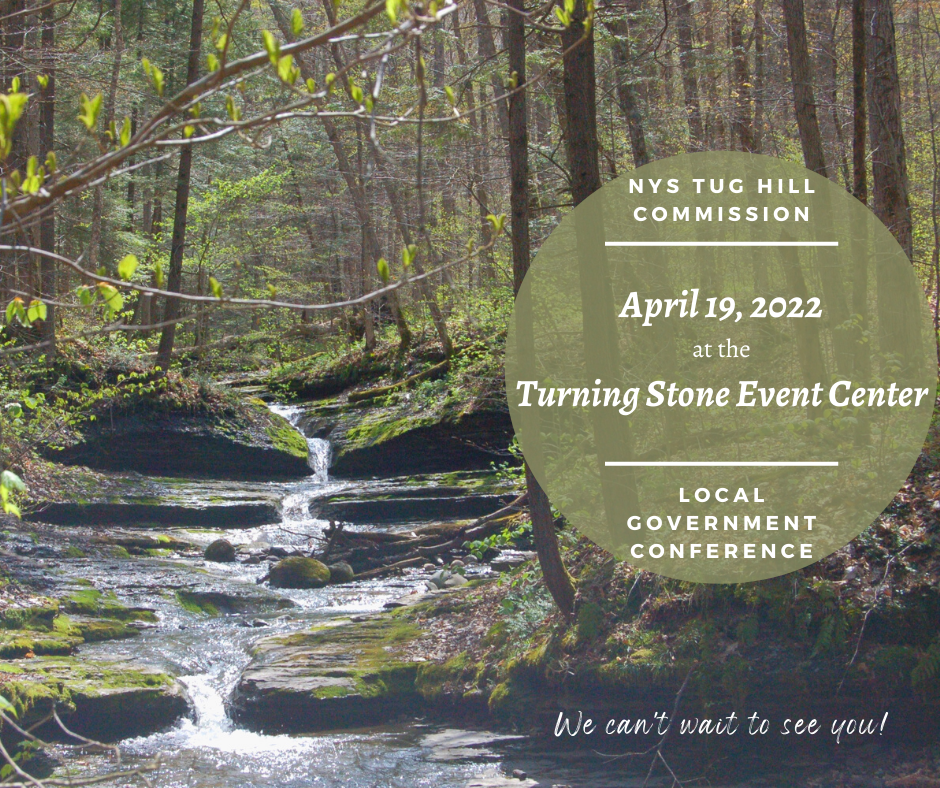 Start 2022 out right by registering for the Tug Hill Local Government Conference (LGC)! The 2022 LGC will be held at the Turning Stone Event Center, 5218 Patrick Road, Verona, NY 13478. Registration and session information for the April 19, 2022 event is now available on our website. Here you will find everything you need including session titles and descriptions, as well as registration information. Also, please watch your mailboxes, as the registration flyer will be mailed out shortly. There are options for on-line (credit card) and mail-in (check or voucher) registration. Our regular registration rate is $75 if postmarked by March 18, 2022.
Registration starts at 7:30 a.m. and sessions kickoff at 8:45 a.m. Lunch begins at 11:30 a.m. and will include a keynote, Leveraging Our Assets in a Global Economy, by Andrew Fish of CenterState CEO.
Each of the four sessions will include seven individual presentations for you to choose from. Our goal is to include a variety of subjects in each concurrent session that would be useful for a variety of local officials including highway staff, clerks, town and village board members, planning board members, zoning board of appeal members and assessors.
Session one topics are: Employee Handbook Basics, Challenges in Regulating Quality of Life Issues, Site Plan and Subdivision Review, Interpretation and Enforcement of Zoning Laws, Long-Range Planning and Budgeting for Highways, Your Role in a Disaster, and Clean Energy Communities.
Session two topics are: Reserve Funds and Long-Term Planning, Open Meetings Law, Rural Planning Issues, Motions, Criteria and Decision-Making Guidelines, Selecting Pavement Preservation Techniques, Vital Records: Local Registrar and Clerk Responsibilities, and Federal Funding Opportunities.
Session three topics are: The EMS Crisis and Its Impact on Municipal Budgets, Historic Preservation, Accessory Dwelling Units as Affordable Housing, Land Use and SEQR Case Law Update, Ice and Snow Best Practices, FOIL Overview, and the 94-C Renewable Energy Siting Process.
Session four topics are: How to Prepare for and/or Conduct an Audit, Great Board Members, Ethical Considerations for Planning Boards and Zoning Boards of Appeal, Q&A for Planning and Zoning Boards, Myths of Traffic Calming and Complete Streets, Email Essentials, and Cannabis.
Assessor's Session: If you are an assessor, you are invited to take part in six hours of certified training. This morning and afternoon session for assessors will cover the steps for using RPS for valuation. Topics include cleanup of your file, land tables, cost tables and comparable sales. Assessors will receive six hours of CE credits for attending this session.
We hope you will enjoy the lineup of sessions we have in store for you. In large part, we rely on your after-conference survey feedback to create the agenda for the following year's conference. Thank you for all the ideas and comments!