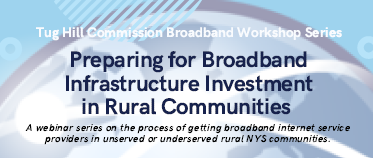 The Tug Hill Commission is hosting a three-part webinar series called Preparing for Broadband Infrastructure Investment in Rural Communities. The training will provides insights on the process of getting broadband internet service providers in unserved or underserved rural NYS communities. Municipal leaders, agency staff, and the general public are welcome to attend. Improved understanding of how the implementation process works will support the ongoing county and regional efforts to make meaningful investments to improve broadband access for the Tug Hill region.
Webinar #1: BROADBAND: STATEWIDE PERSPECTIVE, Wednesday May 12 1 pm
Scott Rasmussen, Innovation & Broadband Empire State Development, presenting a high-level view of broadband across the state. Register at us02web.zoom.us/webinar/register/WN_mNCKXfMOQ3O4jZxc3oGplQ.
Webinar #2: HOW BROADBAND CAN BE DELIVERED: THE SOUTHERN TIER NETWORK, Wednesday May 19 1 pm
Andy Lukasiewicz and Joe Starks, ECC Technologies, sharing case studies on the Southern Tier Network and the nine-county collaborative. Register at us02web.zoom.us/webinar/register/WN_FXe55T-PT5ev4vVrChcWjA.
Webinar #3: TECHNICAL SOLUTIONS AND THINGS TO CONSIDER FOR BROADBAND EXPANSION, Wednesday June 16 1 pm
David Wolf, Development Authority of the North Country, discussing technological options and solutions in broadband expansion efforts. Register at us02web.zoom.us/webinar/register/WN_uSJ4hQmbRoq7ww1GWRb15Q.